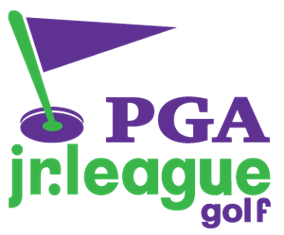 We proudly announce our participation in
PGA JUNIOR LEAGUE GOLF
Register by contacting Derrick Hart
Season: May 1, 2016 - August 15, 2016
Team:10-16 juniors, ages 13 & under
Cost: $189 per junior
PGA Junior League Golf (PGA JLG) features a team- vs-team scramble format in a structured league setting that provides for a more popular, less stressful, competition. The emphasis is on the fun, recreation, and sportsmanship of the game for players at any skill level. Where every participant gets the chance to play, join our team today.

What the player receives:

Team Jerseys

Golf Balls

PGA-JLG Bag Tags

5-6 regular-season league competitions

Instruction from a PGA Professional

Team practices

Awards

Opportunity for All-Star Advancement

Access to the PGA-JLG Website

Additional Information

The PGA JLG program is designed for boys and girls 13 and under. Team Captains have the discretion to allow skilled younger players to play up on the team. A player cannot be 14 years of age prior to August 1, 2016. Each competition is team vs. team, consisting of four 9-hole matches. The format for each match is a two-player scramble, divided into three 3-hole segments called "Flags". Each "Flag" is worth one point, and substitution is allowed at the beginning of each "Flag". Players are assigned to a specific match at the beginning of the competition, and may play only within that match. Volunteers are appreciated in several areas of PGA JLG, please contact the Team Captain for Volunteer opportunities. (Match Monitors, Team-Mothers, Coaches) Each three-hole segment of a match is called a "Flag" Matches consist of 9-holes, or 3 "Flags" 1 point is awarded per "Flag", 3 points available per match 4 total matches per competition 12 total points awarded per competition If a "Flag" is tied, a half point is awarded to each team Every player attending a PGA JLG competition will play in a match. Teams must have a minimum of 8 players to start a match. Each player in attendance must play at least one "Flag" (3-hole segment). Player substitutions will be allowed at the beginning of each new "Flag" (Holes 4 and 7). Players must stay with the original match they are assigned to.

How to Sign-up & Team Captains
Cost is $189 per junior -

Click Here to sign-up online!